Browsing articles in "Pink Ladies"
Pink Ladies,
On January 11th we will begin our "Penny Wars!" The penny wars will be between each individual Pink Ladies team and will run from January 11-February 1! The team containers will be at every class. Each team can put pennies in their own containers. The team with the most pennies will win a team prize! Here is the catch–students may bring in silver coins to put into other teams containers. Any silver coins in a container will take away from the total amount in that container, therefore making it a game! This is designed to be fun for the girls while at the same time collecting for a good cause!
EXAMPLE: A quarter will cancel out 25 pennies
What are we collecting for? As most of you are aware Cloe's mom (Page) has been very ill. She has been in the hospital since the week of thanksgiving. Cloe's dad has been amazing making sure all 3 children are where they need to be, taking care of all the day to day activities and being downtown at the hospital daily, all while working a full time job. As you can imagine things are a little crazy for their family. Part of being a pink lady means becoming part of a large amazing family. And our family could use our help to make things just a little easier on them! All the money collected will be used to help Cloe with all her competition needs! We feel this is the least we can do for such a wonderful family. We thank you in advance for being the best group families we have ever had!
LET THE PENNIES FOR PAGE BEGIN!!!!!!
December 28
6-8pm
the girls will practice from 6-7pm. Afterwards we will decorate shirts and drink hot chocolate. Every girl needs to bring a plain light colored shirt and a mug. If anyone has fabric markers please also bring those. The more we have the faster we can work!!!
Recreational level parade classes begin on September 7! These classes are open to anyone ages 3-13! We will learn a fun routine over two 6 week sessions. The twirlers will perform their routine in the Light Up Berea parade in December! For this class you will need a properly weighted baton, which can be purchased through coach Jill. The cost of the classes are $48 per session and you can register at the Berea Rec Center or online through their site. Classes are on Thursdays from 6-6:30pm. We meet at 535 Wyleswood Drive (the old Smith School). During session 2 we will be ordering our sweatshirts that the twirlers will need to purchase for the winter parade. If you have any questions or you need to purchase a baton please contact coach Jill Brashear 440-382-9932
January 22- Upper Sandusky
February 12-Elyria High School
March 19-Westerville
April 30-Strasburg-Franklin High School 140 N.Bodmer Ave., Strasburg, OH 44680
May 13 & 14-State Competition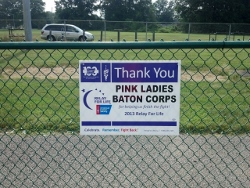 The girls will be performing at the Relay for Life at the John M Coyne Recreation Center in Brooklyn on June 28 from 2:30-3:15pm.  The address is 7600 Memphis Ave Brooklyn 44144
We hope everyone comes out to support these great events!
Thank you to everyone who came to our event! I delivered the food to the Church Street Ministries and Frannie was so happy! I am very proud of all the girls for a helping put together this great event. We look forward to putting on another twirl for hunger in the spring!!!!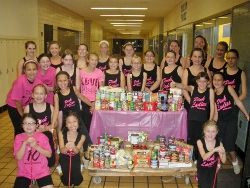 The Catch It! Magazine article reads: Kudos to the Pink Ladies Baton Corp. of Berea, Ohio who filled 8 baskets and boxes with food and cleaning supplies for a local food bank during an April fundraiser called Twirl for Hunger!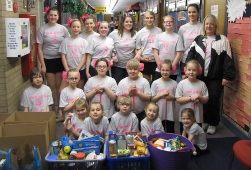 Upcoming Events
Tuesday, 07-23-19

Thursday, 07-25-19